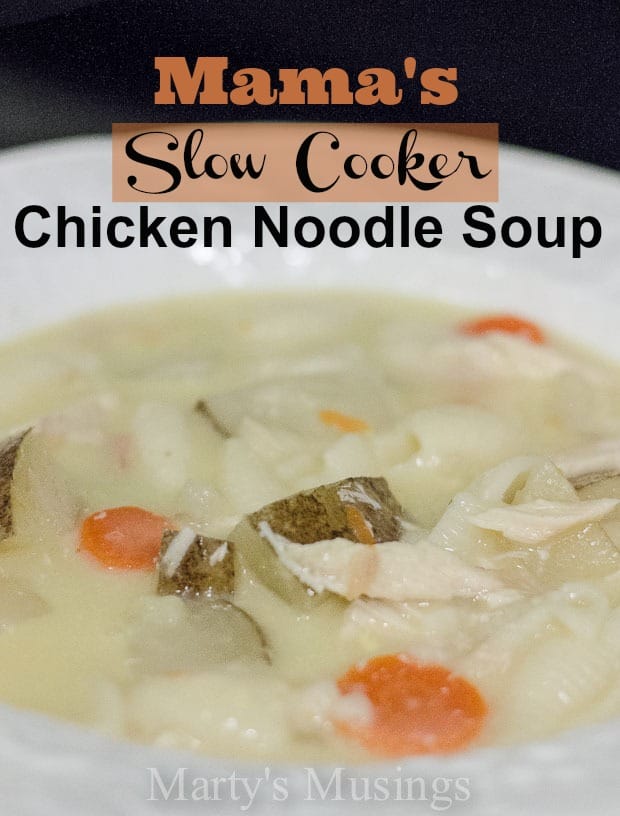 Slow Cooker Chicken Noodle Soup is a favorite comfort food for my family.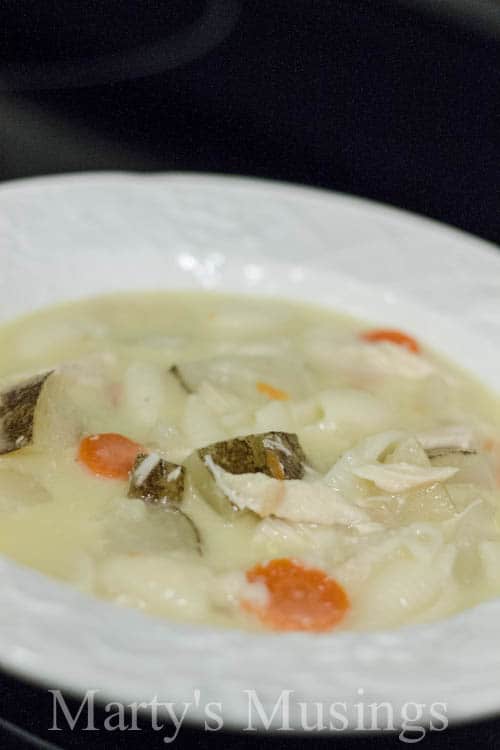 We enjoy it after wintry days spent having fun in the snow or when someone is sick and needs a little "mama" care. It's super easy.
I can smell it now

Comfort Food: Crock Pot Chicken Noodle Soup
Prep time:
Cook time:
Total time:
Ingredients
3 boneless chicken breasts
chopped carrots, potatoes or any other fresh vegetables you want to add
1 pkg egg noodles
2 cans cream of chicken soup
Instructions
Put chicken, and vegetables into the crock pot.
Add water to cover all ingredients plus an inch.
Cook on high for 3 hours or low for 5-6 hours.
After chicken is done (3 hours or so into the process) remove it to cool and then cut in small bites.
Add the chicken back to the crock pot, along with egg noodles.
Cook for an hour (possibly less) on low until noodles are soft.
Add cream of chicken soup until it is warmed through (20 min. on high, 30 min. on low).
Serve with crackers or homemade bread.
Notes
This recipe has no exact measurements! Add more or less of ingredients according to availability and preference. If you want more chicken, add more. If you don't like potatoes, don't add them! Just add about an inch more water than you have ingredients. Crock pots vary in cooking time so use your best judgment as to the length of cooking. If you want the soup to be more creamy, add another can of cream of chicken soup to taste. If you like another kind of noodle, use those. It's totally to your taste preferences! Enjoy!
Want more ideas for the slow cooker? Simply click on the picture below to be taken straight to the post.