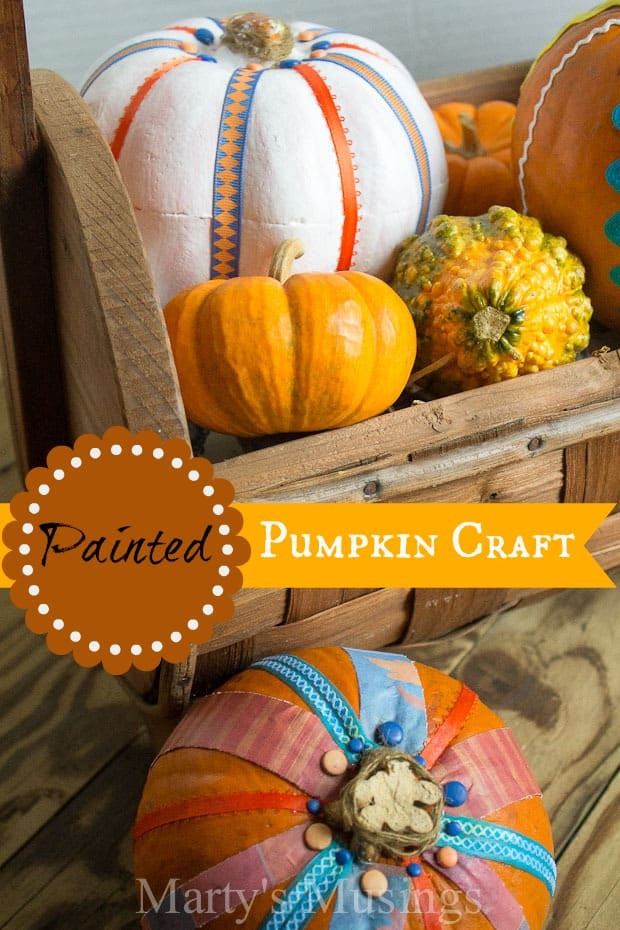 If you didn't know it was fall, all you would have to do is take a glance at Pinterest. Pumpkins are everywhere!
I was challenged by Behr to come up with a fun DIY project with their paint. Since my DIY husband is a painting contractor and we've painted almost every room in the house with Behr, finding a little bit of paint to use was no problem!
I chose Ultra Pure White Behr Premium Plus Ultra paint and primer in one. Here's my first pumpkin.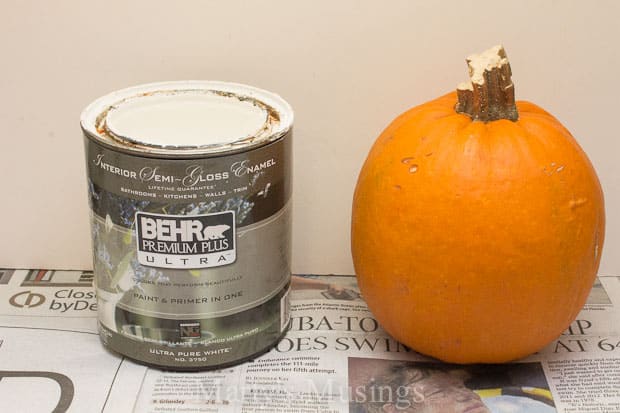 And my second one. Can you tell the second one is fake?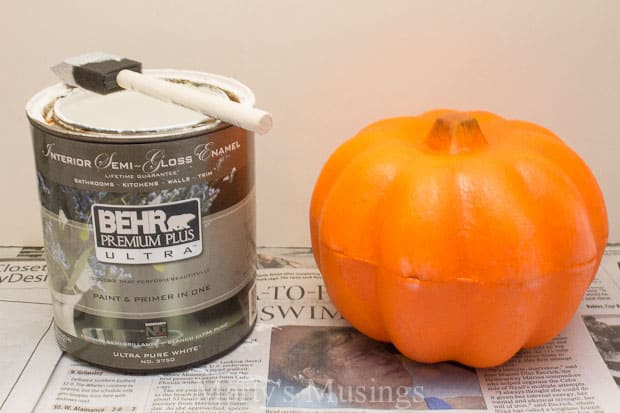 I decided to experiment with both a real pumpkin and a dollar store carvable pumpkin.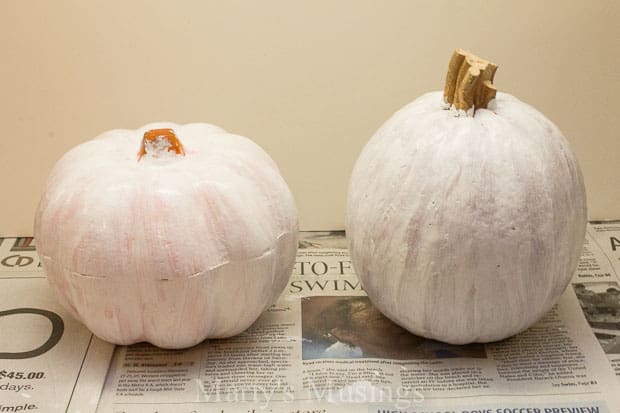 After 2 coats of paint I began having fun. Since I am the queen of ribbon and hoarder of paper I knew all I had to do was shop my own craft room for supplies to decorate the pumpkins. This painted pumpkin is just strips of ribbon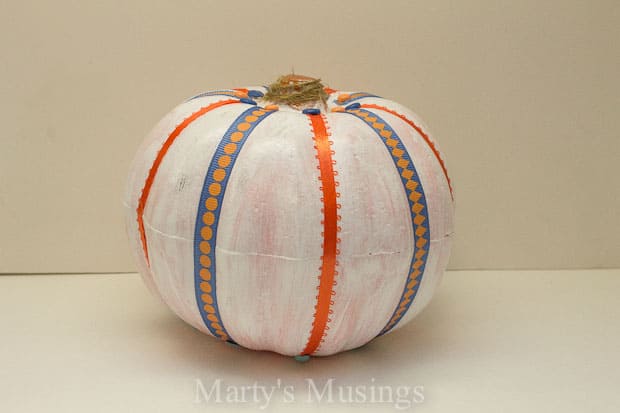 with brads used to secure the ribbon on both the top and bottom. This was so easy to do with the carvable pumpkin.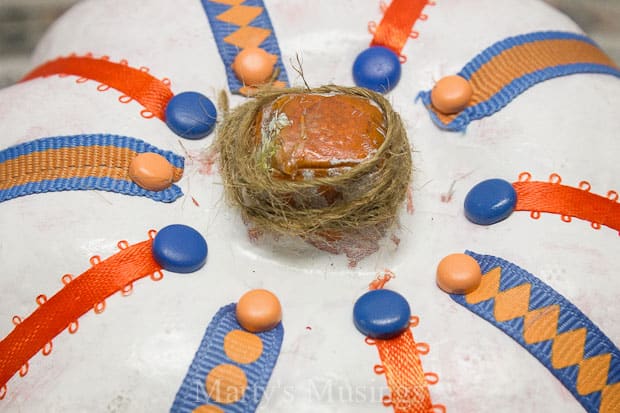 I used the Scotch Quick-Dry Adhesive to glue on the scrapbook paper strips on this unpainted pumpkin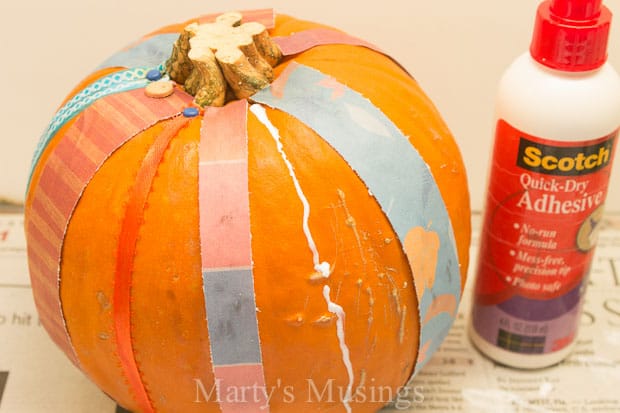 and on this painted pumpkin.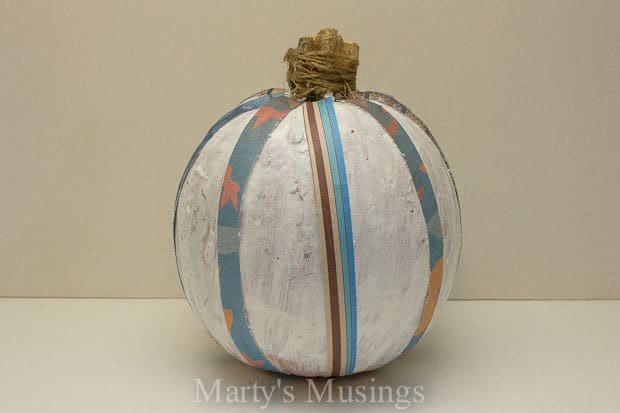 I used hot glue and jute to wrap the stem of each pumpkin.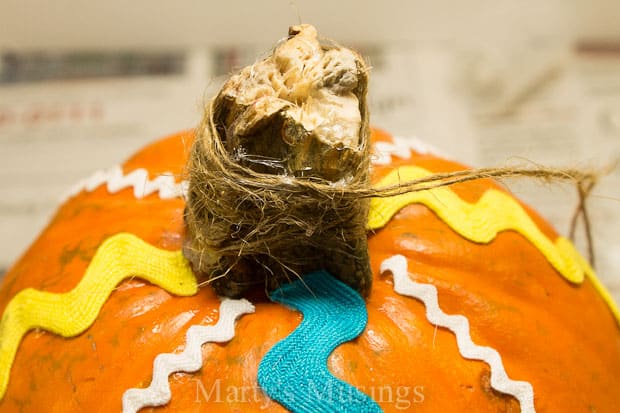 I nestled the pumpkins in a $2.50 basket I got at a yard sale. (the lady wanted $5 but I got her down to half price!)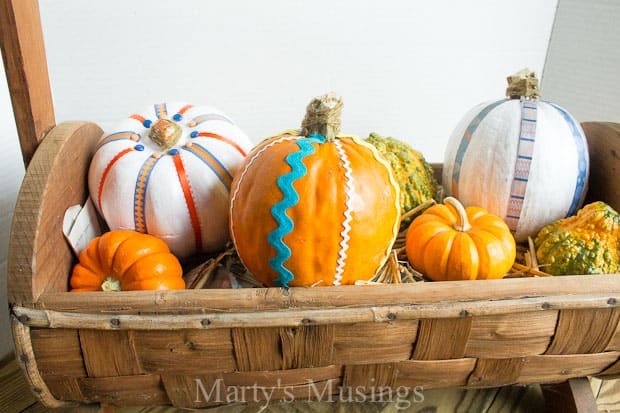 I love the unpainted pumpkin that I fancied up with rick-rack.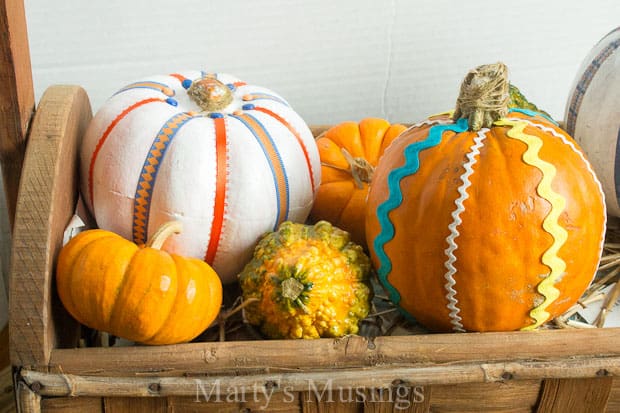 I just added a few mini pumpkins and gourds.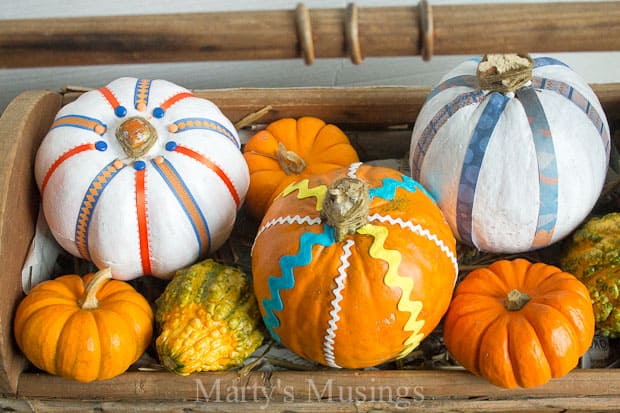 I propped the pumpkins up on an overturned basket to give them some height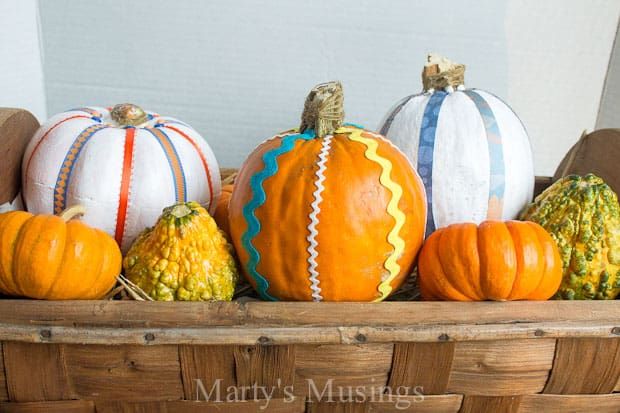 and filled in with some newspaper and hay. Totally easy!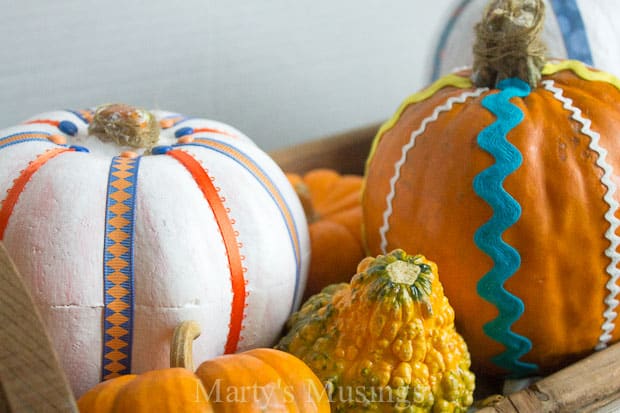 Did you see my front door transformation with Behr paint last month? It's amazing!
Want to see more of the Behr products that we use and love? Check out the Colorfully, Behr blog which is about all things color through the eyes of Erika Woelfel, Director of Color at BEHR Paints. Or hook up with Behr through their social media:
Facebook: https://www.facebook.com/BehrPaint
Twitter: https://twitter.com/behrpaint
Pinterest: http://pinterest.com/behrpaint/
Instagram: http://pinterest.com/behrpaint/
What is your favorite pumpkin idea using paint? Did you know there is a ColorSmart by BEHR Mobile app to help make the job easier?
Disclosure: I was provided with product by Behr but the opinions are all my own!
Linking with: Between Naps on the Porch, The Better Mom, The Farmhouse Porch, Snap!